About Fisheye
About Fisheye
We work with you in two ways: strategically, to ensure your IT infrastructure supports and grows with your business, and on a day-to-day level to support your staff in making the business work.

Launched: 2001
Offices: Auckland & Wellington
Typical client: 10-200 staff
Specialty: Planning, developing and maintaining IT environments that keep your business working and growing – now and in the future
How: Through strategic analysis, proactively monitoring your network, onsite and remote helpdesk support, design and implementation of specific projects
In addition: We develop bespoke Universe-based applications and online solutions to meet specific business goals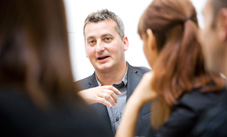 When Fisheye was launched in 2001, IT services were still based on a business model called "break-fix". The idea was that you only called your IT provider when something broke. They came in, fixed it, and billed you – and typically it broke again.Our founder, Jeremy Hunt, wasn't the first person to see the problem with that model – but he was one of the first in New Zealand to do something about it.In 2007 Fisheye created a business model that delivers what clients want – IT they can count on to run smoothly and help develop the business.
Along the way we invested in two of the world's best IT Managed Service business applications. That changed everything.
For the first time, we could monitor clients' IT systems around the clock and measure every aspect of their performance. It was like having a stethoscope, ECG and host of other diagnostic devices permanently attached to our clients' networks.
This allowed us to offer a predictable, fixed-cost IT Managed Service. Clients have a way to ensure their IT systems keep working smoothly, that they keep pace with the changing needs of the business, and that software and hardware are updated in a planned, strategic manner.
It's the opposite of being paid to fix problems. Instead, we're rewarded for keeping them to a minimum and contributing to our clients' growth at a strategic level.
We also continuously survey the market to understand which third-party IT providers – such as internet providers, phone companies, data centres, hardware providers, and so on – deliver the best products and services. IT is such a complicated, fast-moving area that having a trusted advisor here is critical.
Fisheye keeps an eye on your IT investment with two principles in mind:
Part of our job is to prevent your system from "breaking" or from needing to be fixed. Let's put this another way – it's to make sure your business doesn't suffer interruptions that can cause reduced productivity and lost business.
The second part of our job is to make sure your IT systems support your business goals (which usually include growth).
These things are simple, but not easy. We excel at them. That's why we're trusted not only by our clients, but also by the world's best business software providers, like Microsoft, Kaseya and ConnectWise.
Check out these and other partners here.
Want to talk to us? Contact us here.